这是一份由idatalabs提供的Product lifecycle management(PLM)的市场数据。从图上看Siemens的teamcenter占领了近30%。
https://idatalabs.com/tech/product-lifecycle-management-plm

Oracle的PLM策略逐渐使用Cloud的Fusion PD来取代之前的Agile9 on promise. 这将使其短期内失去更多市场,但最终效果还要看其Fusion PD的用户转化率。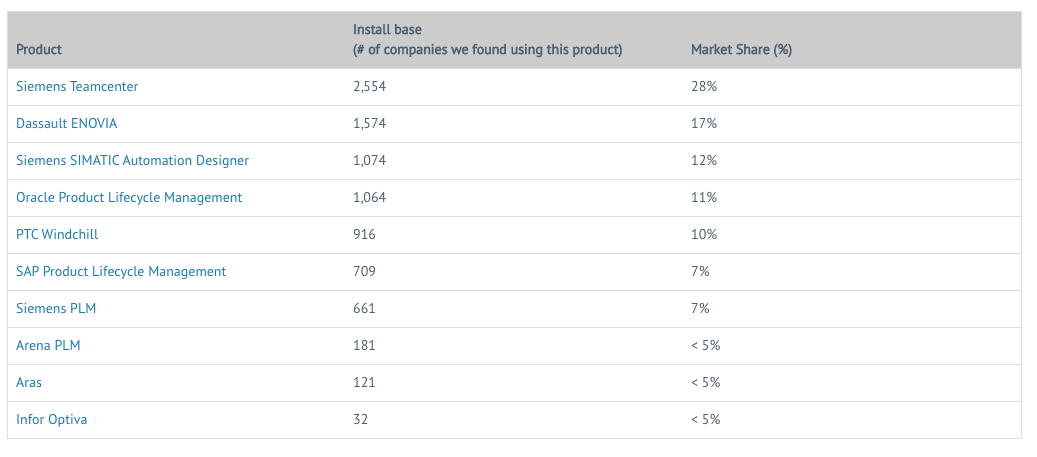 Arena is one of the smaller players in the PLM area in general and cPDM (collaborative Product Definition management) markets in particular. From an overall point of view the market can be divided into two main groups:
* The dominant players, such as Siemens PLM (Teamcenter suite), Dassault Systèmes (3DEXPERIENCE/Enovia), PTC (Windchill), SAP (SAP PLM) and Oracle (Agile PLM) where revenues range from Siemen's PLM's close to $2 billion to Oracle's barely 800 million dollars.
* The smaller players, such as Autodesk (specifically for the cPDm area and their cloud-PLM platform Fusion Lifecycle), Aras PLM (Innovator) and Arena (Arena PLM), all estimated to be below $100 million per year in revenue.
In the latter group, we do not know the exact revenue levels–except for Autodesk, which according to CIMdata, takes in about 70 million on cPDm–since they are not generally published. In any case, it is a striking fact that the players are either really big or quite small, at least in financial terms. No medium level exists.
参考文档:
https://www.engineering.com/PLMERP/ArticleID/15564/PLM-in-the-cloud-is-revolutionizing--Equity-firm-JMI-invests-in-Arena-PLM.aspx
https://idatalabs.com/tech/product-lifecycle-management-plm
https://idatalabs.com/tech/product-lifecycle-management-plm
https://www.arenasolutions.com/blog/post/new-plm-market-reports-forecast-trends-2015-2022/
https://www.ptc.com/en/products/plm/customer-stories
https://www.ptc.com/en/windchill-blog/ptc-is-a-leader-in-plm-for-manufacturing
https://www.ptc.com/en/products/plm/mid-sized-manufacturers